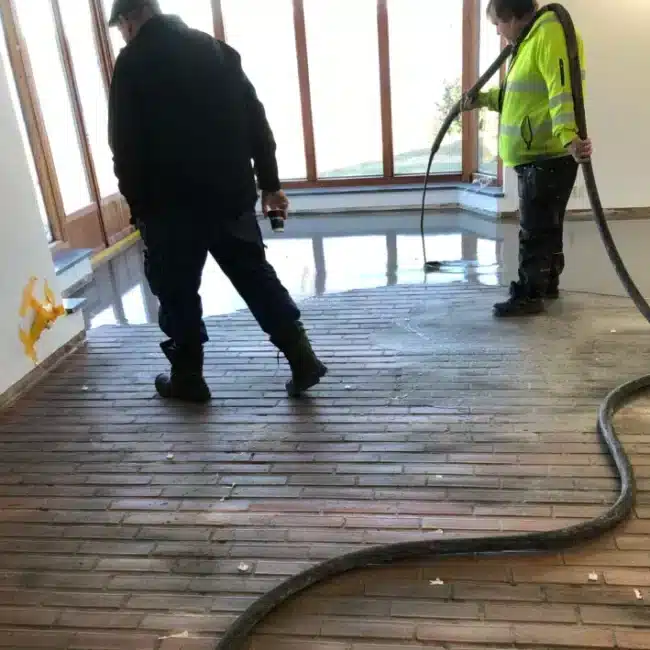 CONCRETE, PLASTER & FLOATING PLATE?
Concrete, plaster, floating putty and other mass coatings can be laid on as long as the surface is tensile and smooth. Irregularities over 1mm are puttyed or sanded away. It may also be a good idea to pre-treat the surface with floating putty primer/acrylic primer so that the consumption of our K-primer does not become too high.
PLANK FLOOR OR PARTICLEBOARD?
All wooden constructions on floors need to be reinforced with floating putty. Thicknesses and reinforcement depend on the manufacturer of the floating putty. Read what is required for a wooden beam reinforcement specifically for your manufacturer on their website or consult your hardware store.
TILES & CLINKERS?
Tiles and pavers first need to be puttyed so that the surface is completely smooth, otherwise a grid pattern can be seen in the flammability of the microcement. You spackle with a tile fix or putty compound adapted to attach to the tiles. Scrape the entire surface diagonally over the joints 2 times.
WALLPAPER?
Wallpaper is fine to install on as long as its adhesive can withstand moisture. You can try painting with a color first and see that it doesn't bubble, because then you have to tear it down. Regardless, you should cut or spackle away the joints, otherwise there may be a line in the flammability of the microcement. The textured wallpaper and fabric are torn down or plastered first
CARPET OR DIRECTLY ON COLOR?
Carpets are first checked for hardness. Press with something hard, such as a spoon. The carpet should not flex. Then you check that the carpet is glued everywhere, especially in the corners against the wall. Before the work begins, the carpet is sanded and/or washed with cleaning alcohol, to remove a softener that is usually found on the surface. The softener may affect the attachment.
WOOD AND ORGANIC MATERIALS?
For indoor use, it is fine to install on wood or other organic materials, apart from floor surfaces (see plank flooring). Outdoors, for example, the weather can change to quickly between rain and heat. You should bear in mind that Vitruivus is open to diffusion so it lets moisture through. Therefore, you may need to protect the MDF from moisture with a waterproof varnish if you are going to make concrete worktops. Treated wood should be painted with a barrier paint before installing microcement.
SUBSTRATE WITH STAINS?
If there are stains on the substrate, you need to make sure that they are not stains from something that can disturb the microcement, such as oil stains. Otherwise, the stains are washed or sanded away. When grinding, Diamond discs can be good to use.
SUBSTRATE WITH CRACKS?
If the substrate has cracks in it, you need to ensure that they do not move or continue to crack. If the cracks are filled with dirt, it may be a sign that it is not moving. Then you clean them then putty with a hand putty, so you don't run the risk of them being visible in the flame.
HOW DO YOU DO WITH MOVEMENT JOINTS?
Movement joints or delithiation joints exist so that the substrate can move, these joints also need to go through the surface layers, i.e. Vitruvius
FLOOR HEATING?
Underfloor heating works well, but it needs to be switched off during installation, this to allow as long working time in the material as possible